An architect and a landscaper will look at the same street corner and see completely different things, much in the same way that a retailer and their customer will look at a window display and get a different story. Even what constitutes as extra, open, or empty space changes with experience. My concept of space changed entirely after making the move from
Nebraska
to
Chicago
. If the very life you lead can cause you to view space in a different way, then it stands to reason that the space in your home looks differently through the eyes of your cat(s).
Cats
need
vertical space. It is especially important in a multi-cat household where hierarchy is a big deal. Generally speaking, your "top cat" is going to be in the highest spot of your home, where it is easy for them to survey their domain. It's far more involved than all that, and there are plenty of other ways cats display dominance, but elevation is a basic visual cue.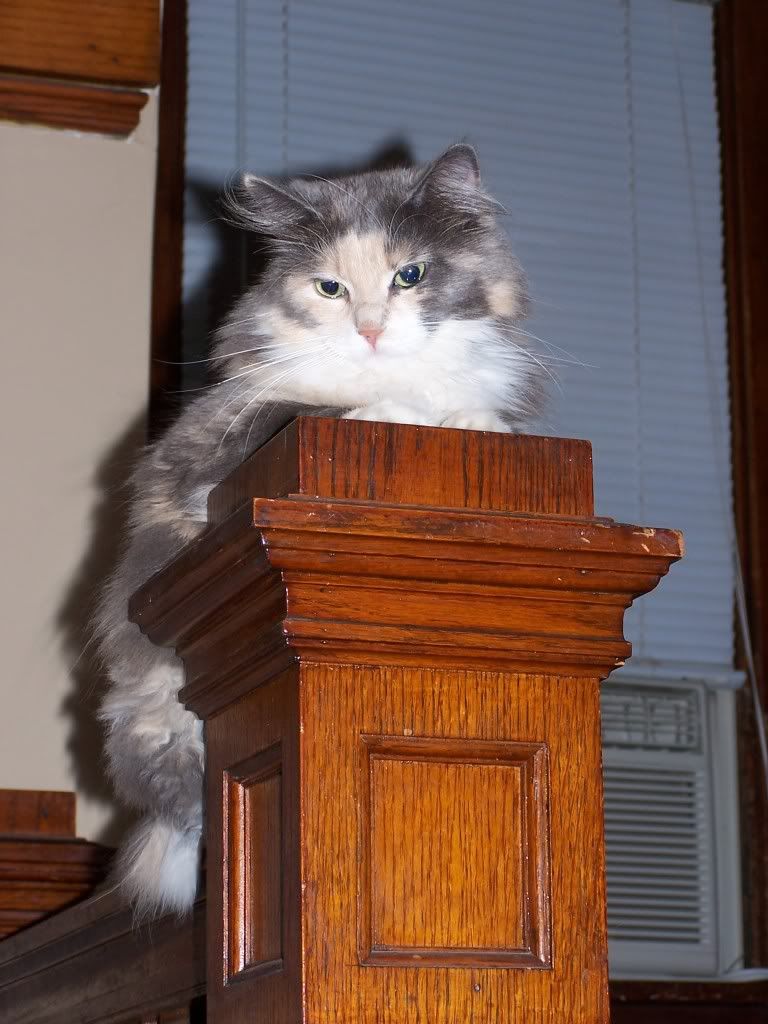 Mona on the staircase.
Some boys enjoying a multi-leveled view.

 
In a home without vertical space, it can be harder for cats to establish who is dominate. Because they are on the same physical level or close to it, the more dominate cat may feel that the less dominate is trying to usurp it's power, causing fights. The less dominate cat might not even want "the power", but without the ability to effectively communicate that, it's left with the standard two options, fight or flight. Fight, and you're left with battling cats who could seriously hurt each other, or flight, in which you have a rather aggressive top cat, and another cat who is scared, nervous, and hiding all the time. Neither situation is a great one to find yourself in.
Cats on every level!
Asses the vertical space in your home. When it comes to cats, that matters far more than the actual square footage. Cat trees are great, and they aid in
healthy scratching
, but they are not the only option. In my house the cats can frequently be found on the top of the fridge, the kitchen cupboards, on the bookcases and record shelves, or on the crate thing that holds our couch pillows and blankets, as well as spending time on their cat trees. Just make sure you have a few items in your home that are tall, stable, and that have room for a cat on the top of them.